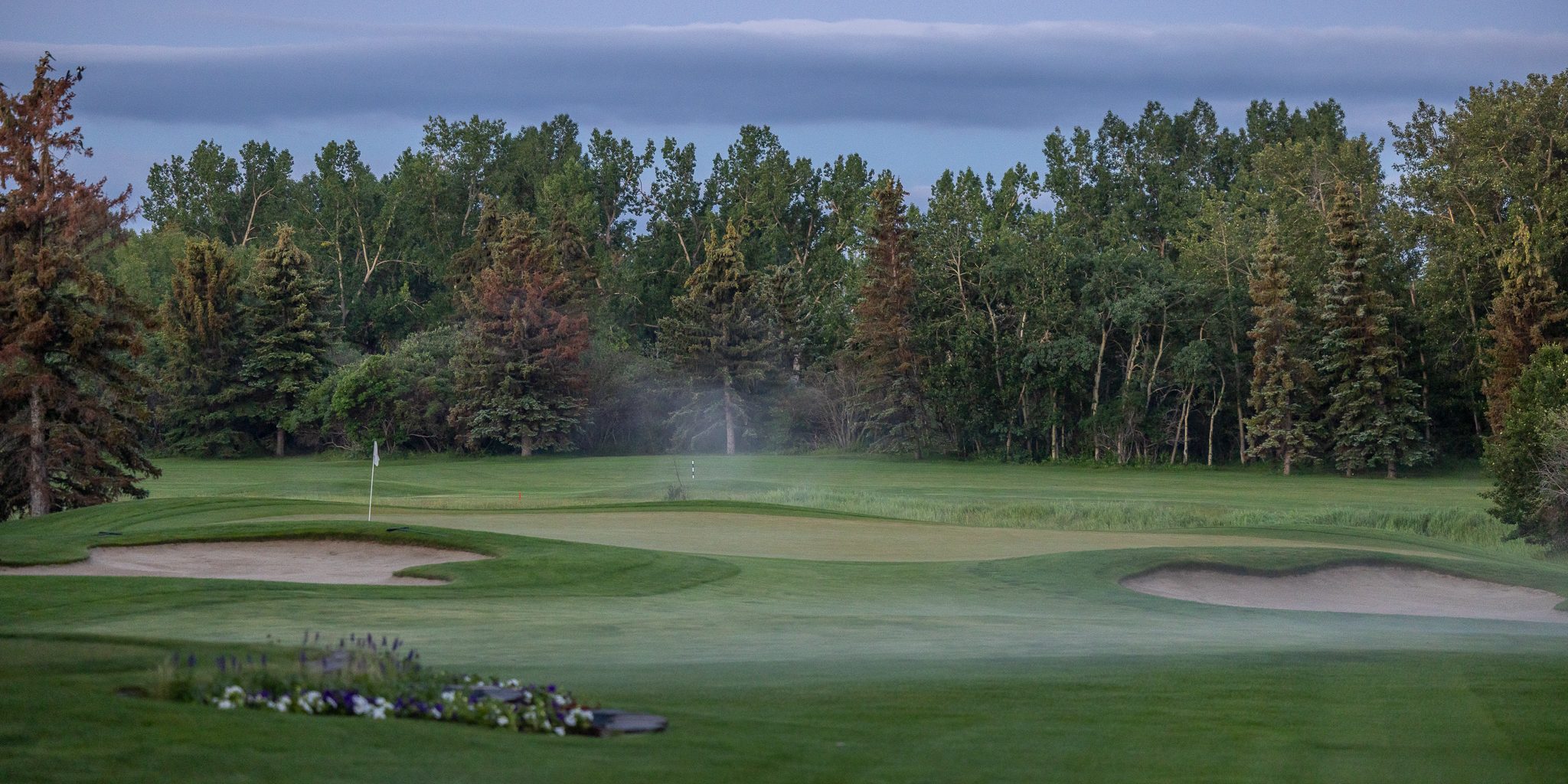 Welcome to Canyon Meadows Golf and Country Club
We look forward to your visit to the club. In anticipation of your upcoming round, we want to provide you with a brief overview of some of our club's policies and expectations.
Arrival:
Upon arriving at Canyon Meadows, please proceed to bag drop at the north end of the parking lot and ring the doorbell for bag service. Once parked, please proceed to the golf shop to check in. Canyon Meadows is a cashless facility.
Attire:
Slacks and Shorts: Golf slacks and tailored shorts generally of a style and kind sold in the Pro Shop are acceptable. Shorts must have a minimum 6" inseam. For Ladies the minimum length for tailored dresses, skirts and/or shorts shall be between the mid-thigh and the kneecap. Cargo slacks or shorts (outside pocket on the leg) are not allowed.
Golf Shirts and Tops: Male: Shirts must have a collar (mock necks are acceptable) and Polo style shirts must always be tucked in. Button down Golf shirts may be worn untucked (defined as buttoned from collar to hem, hemmed and evenly cut around the bottom). Female: Golf shirts must have a collar (mock necks are acceptable) and/or sleeves.
Denim:
Appropriate denim (not ripped or stonewashed) is allowed in the Clubhouse only. Denim is not allowed on the golf course at any time including Stampede Week.
Clubhouse:
Sundresses and appropriate formal or semi-formal attire is acceptable. Sweat suits, gym wear or spandex of any type is prohibited as well as any attire with gaudy or vulgar slogans. Midriffs must be covered.
Head Wear:
Is not permitted in the Dining Room or Spike Lounge except for Medical reasons.
Technology:
Please put your mobile device on silent prior to arriving. You may speak on the device on course or in the parking lot, but not inside the clubhouse facilities. Bluetooth speakers are permitted but kept at a volume that does not disturb.
Food and Beverage:
You are welcome to use the snack bar and main clubhouse eating areas while on the property. A reminder that we are a cashless facility.
Locker Room:
Our rooms are available for your use before and after your round. Guest lockers will be provided upon request.
Pace of Play:
Each group is expected to play in 4 hours or less and maintain pace with the group in front.
Directions:
Canyon Meadows is located on the corner of 14 th street and Canyon Meadows Drive. Please allow extra time to travel to the club as the City of Calgary is currently working on both 14 th street and Canyon Meadows drive.
Your support and understanding of our club's customs is very much appreciated, and we would invite you to contact the Golf Shop at (403) 281 - 1188 if you have any additional questions or require any further assistance. In the meantime, we wish you safe travels and look forward to welcoming you to Canyon Meadows!